Our team had been looking forward to the state tournament all season. Last year, being brand-new to FTC, we didn't really know any of the other teams or what was going on. However, since then, we've gotten to know the MN FTC community and developed an understanding of how everything works. This year, instead of the nervous excitement of last season, we were just excited to see our friends and find out how everyone has been progressing this year. All this excitement built up throughout a very stressful (but very fun) final week of late nights and sugary snacks. Then, on Friday evening, we packed up to head to Thomas Jefferson High School in Minneapolis.
State Championship is split into two days. Day 1 on Friday is specifically for team interviews (aka judging sessions) and robot inspections. That way, Day 2 can be spent on robot matches and the awards ceremony to tie everything together. We went into Day 1 with a roughly practiced presentation but enough enthusiasm to last us the entire weekend.
The judge's interview went well and we had a lot of fun explaining our entire season to the judges. One of them had actually been our judge for all three tournaments, so it was cool that she was able to see how our season had progressed between each event. She also tweeted this afterwards, which we thought was very funny.
The inspections went well and we got busy setting up our pit for the next day. Thanks to Amy and Amelie, it looked great, complete with pink-and-black fringed tent and brand new vertical banner.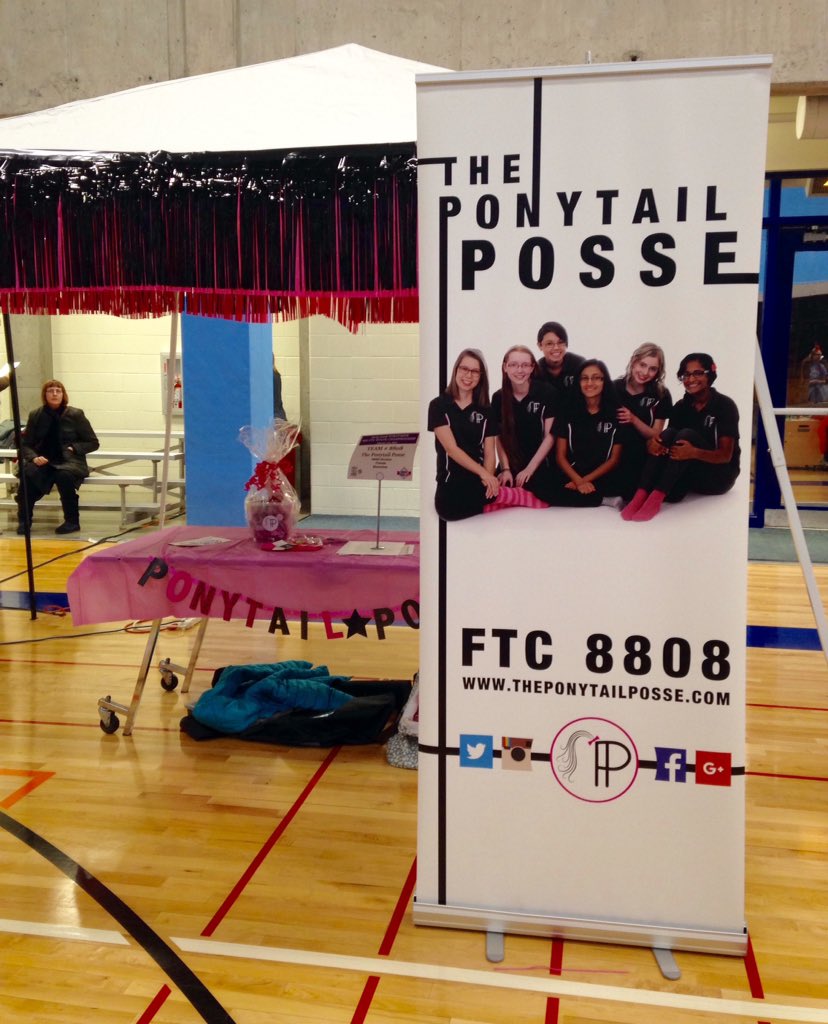 The morning of Day 2, we all met up at the school and got ready for the real competition to start. The first thing we did to prepare was use a spray to temporarily dye parts of our hair hot pink. This drew a lot of attention throughout the day, especially to Rose, who looked a bit crazy with the pink shaved hair and FIRST earrings.
Overall, the qualification matches went okay, even though our robot Stacy didn't perform so well. There were a few times when it went a little bit crazy, most notably when the scissor arm tilted almost 90 degrees and was flopping on the ground like a very innovative dance move. But despite these difficulties, we had a great time working with other teams and thinking on our feet to solve some of Stacy's problems.
Throughout the day, as the drive team ran around preparing for matches, Amy and Amelie directed a #MeetBeforeCompete Twitter contest. The goal of the contest was for teams to get involved with the FTC community and meet other people throughout the event. To enter, teams had to take a photo with a volunteer, another team, etc. and Tweet it to us using @ponytailposse and the hashtag #MeetBeforeCompete. We handed out hot pink fliers throughout the day to advertise the contest and encourage everyone to join in.
At the end of the day, we put all of the entries into a random picker. The Green Girls, a team who we have competed alongside since our FLL days, ended up winning the fabulous goody basket (which included a lot of candy as well as a beloved FTC goat). It was fun to host this contest and it was great to see our friends meeting new people throughout the day. Also, as FIRST teams from around the country saw all the excitement on Twitter, they asked permission to use our contest idea at their own events. To know that our idea will be used to bring the FIRST community together around the country makes us really excited – now, we're even more inspired to come up with other ways to encourage community in FIRST.
Right before the last couple matches, we had the gym full of spectators sing happy birthday to Amy and her twin brother John (who's on another FTC team). (click here)
After a lot of cheering for our friends, we ended the day as finalists for the Motivate award. We were especially excited for Height Differential, who won third place Inspire award, and Iron Maidens, who won second. And of course, we were very happy to hear that the Q is Silqent won first place Inspire, since we had competed with them all three times and knew how much they deserved it.
We were all pretty exhausted by the end of the day (as see below).
Overall, this tournament was a fantastic way to end our season and we had a great day working with the other teams and celebrating the community of FIRST. We wish best of luck to those who are advancing to Super Regionals – we know they will represent MN well!
As always, big thank-you to High Tech Kids for hosting the event. They did a fantastic job and we're lucky to have them here in MN!